◆ CFF MALAYSIA
Address:  P.O. Box 326 Kg Kelatuan, 89608, Papar, Sabsh, MALAYSIA

   ● Message from Mr. Mitshihiko Abe.
       the director of CFFM
Caring For the Future Malaysia (CFFM) was officially founded in April 2008. In the same year, we opened our Children home in Papar.
CFFM was founded based on these three main objectives:  
1) To operate an Children home for under-privileged children,
2) To contribute to the local community throughout Sustainability Project,
3) To develop the youth through Work Camps & Study Tours.
These objectives are not separated but related to each other.
For example, our Children home is not apart from the surrounding community. We are engaged in the local community through employment. Our hope is that the facility becomes resource to improve the local livelihood.
  Developing the youth is an important objective of CFFM. Our future depends on the next generation. For this very reason, the name Caring For the Future Malaysia is coined. CFFM aims to grow the youth by providing various activities.
  Since 2008, we have been organizing International Work Camps and Study Tours. Until the end of 2014, more than 1.000 Japanese youths and more than 300 Malaysian and from other countries had participated in our Work Camps and Study Tours. The participants are the youth who come from different places and different organizations. They have given tremendous contributions by means of building the facilities in Papar, Sabah, Malaysia, building a road, fixing a bridge, creating ponds and so on. In the beginning, they were strangers to one another. However, through eating together, working together, sleeping in the same place and discussing among them with a common goal for the future of children, they build up their true relationship; they discovered the true meaning of life, happiness and peace.
  Our dream is to see the world coexist and live in harmony regardless of race and creed. I believe that it is also the goal of Malaysia. The world we are living in is a melting pot in terms of different races, languages, cultures and religions. If you describe this in color, it is like red, yellow, green and purple. The coexistence of diversity is not mixing these colors and makes it into one. If these colors are mixed, it will be gray.
  Then, how do you describe the coexistence of diversity? I believe that it is like a rainbow.  A rainbow has seven colors with harmony and each color enhances one another perfectly. That's why the rainbow is beautiful. It has a complete beauty. if it is one color, it is not a rainbow.
  Environmental disaster, poverty, economic and welfare crisis. The world has been facing many difficult issues. Nowadays, these issues cannot be resolved by one country. For example, the issue of global warming will not find a cure unless all nations get together, work and share the problem itself and the pains caused by the effect. It means, a concerted effort is essential. The concept of countries and nations are getting changed.
Therefore, CFFM tries to establish unity in a foundation beyond the gap of races, generations, cultures and religions for the sake of the future of children and the youth through volunteer work camps and other activities.
  Our goal might sound too sublime, but it is our mission.
  In June 2007, I got down to the mission in Malaysia without any fund and connection. Nothing but passion did I have. However, now, more than 1,300 people have been involved in the mission through volunteering, and donation from Japan, Malaysia and Australia. We are all connected. Though we are a non-profit organization and we have no financial guarantee for the future, we believe we can operate our organization, for it is neither money nor system but the network of people that is the foundation of our bright future.
Mission (5 CARE)  
     To provide a home for the orphaned, abused and neglected children
     in Sabah with love and compassion in a happy and godly surrounding 
     producing responsible men and women who are capable of 
     Caring:-
        For Self
     For Others
     For the Community
     For the Environment
     For the Future         
      
    Vision     
   To nurture the Physical, emotional and spiritual well being of each child 
    in our care with love, respect and acceptance.
● Current activities and vision
1.  Building main house of children (Romah Kanak-Kanak) 
    ・see the image picture 
  ・construction budget :750,000 Ringgit ($235,000)
    ・children to be entered: about 26.
    ・completion of the house: November 2015.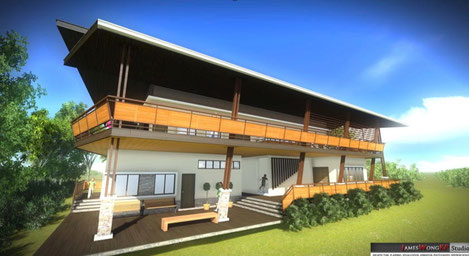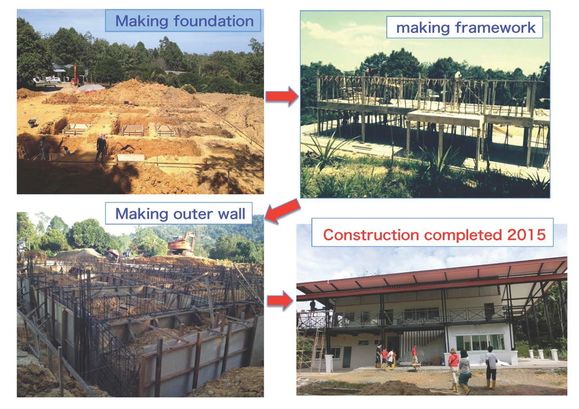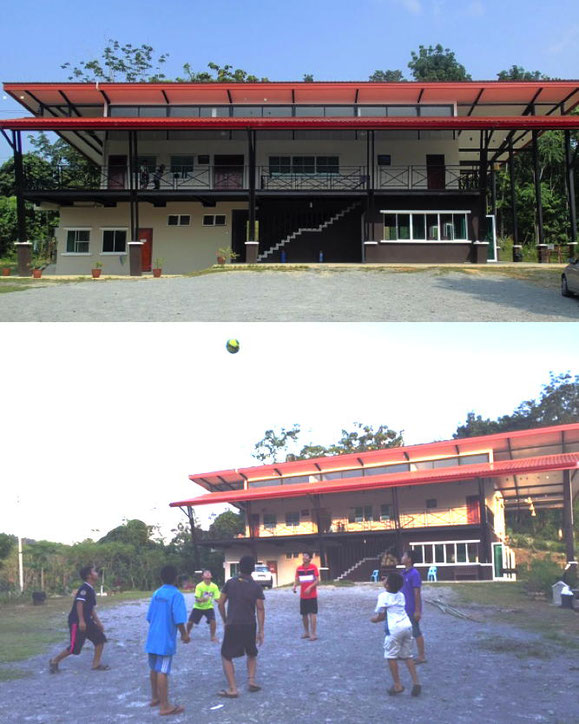 2. Sustainable design
      Management of Children's House sustainably
 by designing  global system (environment), social system (economy)
and human system (welfare) together with surrounding communities.
The design is future-oriented to aim at self-support, independence and coexistenc

One of product from sustainable design project:
Soap, natural and soft
● History of CFF Malaysia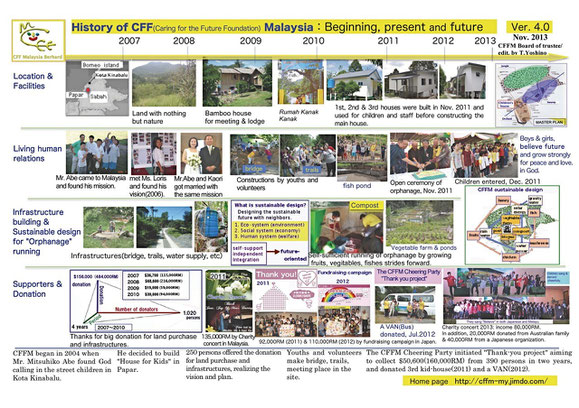 ● Future of CFF Malaysia
 -----------------------------------------------------------------------------------
--------------------------------------------------------------------------------------