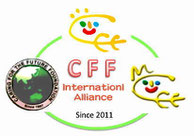 CFF has reached
  20th anniversary &
  goes forward to future!
Congratulation and many thanks to
  CFF founder Mr. Futagoishi and the present representative Mr. Abe,
  all staff, workers, board members of Japan, Philippines and Malaysia,
        and collaborators in Myanmar,
    children of each CFF site,
    youth campers and interns,
    supporters and cooperators,
    and all who love CFF
for CFF 20th anniversary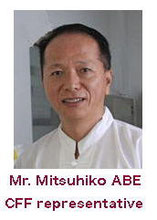 Each country has its own culture and history, and also the idea of child rearing and youth development.
  There is a difference. In the past six years we have respected each other and how we can work together. We have discussed and confirmed at CFF international conventions.
  However, the purpose of CFFI is not only to satisfy the current situation but also to respect mutually the circumstances of each country. "Furthermore, we deepen the common understanding of CFF to seek what is the best for children, what to do for it, and to continue to explore what we can collaborate with".
  In this year 2017, 4th CFF international convention will be held in Malaysia from 23rd November.  We will not change, we will have never-ending discussion for the best benefit of children and youths and how to perform them.
I hope that Myanmar began activities since 2013 will become a new partner under the policy of "CFF" soon.


<Report> CFF 20th anniversary party
                                                  November 26th, 2016 
We celebrated this 20th anniversary on December 18th, 2016, at Yokohama, south of Tokyo. Though it was one of the busiest seasons for many Japanese, more than 100 people, including staff, joined the party and celebrated this memorable moment together.
In addition to CFF youths and staffs, their parents and friend also participated in the party. They enjoyed the exhibitions about Philippines, Malaysia, Myanmar, and the demonstrations about youth's domestic activities.
The party started with video message from Mr. Futagoishi.
His comment included
-   Appreciation to countless support during the 20 years
-   Introduction of a couple of people who made great support on the foundation of CFF
-   The fact that many youths made actions based on the learning through CFF activities
He also mentioned that
-   How we could build peaceful world for the future
-   What we could do in order to enable people to live in peace would be propositions, and until they would be solved, CFF could not stop pursuing them.
From CFF Japan Office, Ms. Takanashi announced that CFF changed its official name from "Caring for the Future Foundation Japan" to "CFF Japan" on December 1st, 2016. She also demonstrated new CFF brochure, and reported recent activities and organizations.
Mr. Yamada of My Ticket, a co-worker with CFF in overseas activities made greetings. He introduced the overview of My Ticket and their staff. He also made a supportive comment that "We will support you during the overseas program. You can enjoy the program with no worries."
CFF youth shared what she experienced and learned through CFF activities.
She was a kind of self-centered before joining CFF program.
Through programs and leadership experience, she understood the importance of
-   Making effort in understanding someone if front of her
-   Devoting herself to someone in front of her
-   Sharing thoughts and emotions
She shared her experience that she noticed those important things and her way of thinking shifted from self-centered to other-centered.
The wrap-up of Part 1 was mad by Mr. Abe. He shared the situation of children in Malaysia. He also shared the vision statement of Children's Home – "Love children", "Protect children", "Respect children" – in order to protect children's dignity and rights.
Part 2 was "Share," which everyone in CFF loves.
Youths found their own value through CFF: "standing by friends", "contributing to societies through what (s)he can do". However, most of them found it difficult to explicit the value.
20th anniversary project member spent almost a year in tackling the issue. They held a lot of meetings, conducted questionnaire and interviews to past and recent program attendees, and created one small book supported by lots of people.
Hoping you will think of your values…
The comments made by adults who attended the event made us happy:
-   Now I could have hope in future of Japan, seeing youth working this hard to make the better world
-   I am happy to share the value with youths in CFF, not just limited to support through donation
This moment told us that though things have been changed in this 20 years,
"the value" people got through CFF have stayed in their heart.
We will keep working for the world where everyone can have hope in the future.
● Photo album of CFF 20th anniversary party.
      Click the picture below or [download].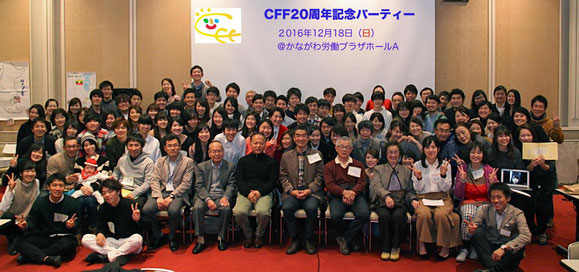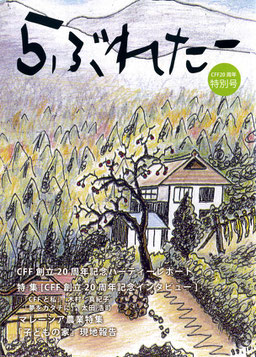 Special booklet "Love Letter
らぶれたー"  published for
CFF 20th anniversary.
Content:
・Comment from Mr. A. Futagoishi
・Report of 20th anniv. party
・Interview to a CFF board &
    past camp leader,and CFF staff
・CFFM "Sustainable
    Integrated Agriculture
    Project (SIA)"
・Report from CFF children
   house